Synopsis
Cory brings Shawn down because he acts very mopey and depressing on a double date with Becky and Rosie, foreigners from England. Despite Shawn's pleas, Cory can't help but to talk about Topanga. Cory's date, Rosie, is very sympathetic about this, and the two hug and cry.
Later that night, Eric fetches Cory from Topanga's empty room and brings him home. Amy tries to comfort him, but cannot agree with Cory's beliefs that they'd be together forever. Just then, there's a knock at the door. Cory opens it, and a sopping wet Topanga greets him relieved. Topanga confesses that she ran away, and Alan does the right thing and calls Topanga's parents despite Cory and Topanga's pleas. Cory promises that nothing will keep them apart.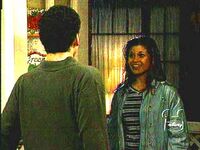 Cory and Topanga move to the living room and discuss their inability to communicate. They love each other, and they agree that that's all that matters. Shawn enters and applauds Topanga's stunt, but quickly exits when Alan and Amy come in. Amy tells them that they called Topanga's aunt who will let Topanga spend the night with her and she'll put Topanga on a train back to Pittsburgh in the morning. Cory immediately gets angry with his mom because he feels like she's trying to end his relationship. Amy, though, says she simply believes they're too young to be making such rash decisions. Cory gives a big long speech about how much he loves Topanga, and seems hopeful that Topanga's aunt will side with them. Topanga quickly dashes that idea, because her aunt isn't even close to a romantic. Cory begs his father, who has remained silent, to help him. Alan instructs Cory to have faith him his mother, and she delivers. She says that it would be irresponsible to tear Topanga out of the only environment she's ever known so late in her childhood. It takes a bit, but they convince Topanga's Aunt to let her stay with her so that Topanga can finish her high school career. Cory and Topanga go outside, so the adults can make arrangements.
Outside, Mr. Feeny tells Topanga and Cory that he believes they're in love. Topanga's aunt comes outside and immediately clashes with him (calling him "snappy" and "verbose"). Nevertheless, she shares that an agreement has been reached. Topanga will stay with her aunt so that she can attend John Adams High School for her Senior Year. Giddily, Cory and Topanga hug because Topanga is going to stay.
Trivia
Cory says that Topanga pushed him up against his locker and gave him his first kiss when he was 13; however, in the episode in which this occurred, Cory's Alternative Friends, he was 11.
External Links
Ad blocker interference detected!
Wikia is a free-to-use site that makes money from advertising. We have a modified experience for viewers using ad blockers

Wikia is not accessible if you've made further modifications. Remove the custom ad blocker rule(s) and the page will load as expected.