Synopsis Edit
Cory brings Shawn down because he acts very mopey and depressing on a double date with Becky and Rosie, two exchange students from England. Despite Shawn's pleas, Cory can't help but to talk about Topanga. Cory's date, Rosie, is very sympathetic about this, and the two hug and cry.
Later that night, Eric fetches Cory from Topanga's empty room and brings him home. Amy tries to comfort him, but cannot agree with Cory's belief that they'll be together forever. Amy tries to convince Cory that he needs to start meeting other people and date other girls, but Cory refuses to accept that. Now upset, Cory cites the fact that he is the one writing the letters and making the phone calls to Pittsburgh, and he reassures Amy and Alan that he won't run to Pittsburgh and risk the possibility of being rejected; he opens the back door and, to his and everyone else's surprise, finds a rain-drenched Topanga standing in the doorway.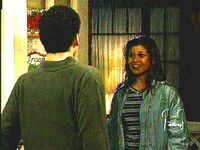 Topanga admits that her parents don't know she came back to Philadelphia, and says that she didn't run away from her parents, but that she "ran away to Cory".
Amy
is about to call Topanga's parents, but Cory tries to dissuade her saying that Topanga's parents don't understand her, just like he believes that Alan and Amy don't understand
him
. While Amy calls Topanga's parents, Cory assures her that nothing will tear them apart again.
Cory and Topanga move to the living room and discuss their inability to communicate while they were apart. They again profess their love for each other, and they agree that that's all that matters. Shawn enters and applauds Topanga's stunt, but quickly exits when Alan and Amy come in. Amy tells them that they called Topanga's Aunt Prudence who will let Topanga spend the night with her and she'll put Topanga on a train back to Pittsburgh in the morning. Cory feels like Amy is trying to end their relationship, but Amy believes they're still too young to be making such rash and inexperienced decisions. Cory then gives a long heartfelt speech about how much he loves Topanga, and seems hopeful that Topanga's aunt will side with them, but Topanga quickly dashes that idea, stating that her aunt is definitely not a romantic (which is noticed by everyone when Prudence arrives at the house).
Cory begs his father, who has remained silent, to help him, but Alan simply instructs Cory to have faith in his mother, and she delivers: she tells Prudence that Topanga's dilemma goes deeper than her relationship with Cory; Topanga was born and raised in Philadelphia, and for her parents to tear her away from her school and her friends- from the only life she's ever known, and to have to temporarily make friends elsewhere for one year before she has to uproot again for college is irresponsible; Amy has evidently struck a nerve as Prudence seems to agree. Amy finally admits that she sees what Cory sees in Topanga, and that she believes that Cory could never do better than her. Prudence sends Cory and Topanga outside while the adults have a discussion.
Mr. Feeny joins Topanga and Cory on the back patio and instructs them to cherish and hold on to the love they share. Prudence comes outside and immediately clashes with Feeny, calling him "snappy" and "verbose", while Feeny staunchly defends his 38 years experience as a teacher (he also mentions the estimated 30 thousand students he has taught, holding Cory and Topanga in the highest regard). Prudence announces that she has spoken to Topanga's parents, and while she does not condone the seriousness of Cory and Topanga's relationship, she also cannot condone Jedediah and Rhiannon's actions, and is willing, with her parents' agreement, to allow Topanga to stay with her long enough to finish high school with her friends. Cory and Topanga happily embrace at the news.
Cory says that Topanga pushed him up against his locker and gave him his first kiss when he was 13; however, in the episode in which this occurred, Cory's Alternative Friends, he was 11.
Cory makes the observation that he and Topanga are like Romeo & Juliet, but just as Topanga's Aunt Prudence arrives at the house, Topanga observes that Prudence has never been in love and probably doesn't even know who Romeo and Juliet are; Prudence was played by Olivia Hussey, who played the female lead in the Oscar-winning film version of Romeo & Juliet in 1968.
External Links
Edit
Ad blocker interference detected!
Wikia is a free-to-use site that makes money from advertising. We have a modified experience for viewers using ad blockers

Wikia is not accessible if you've made further modifications. Remove the custom ad blocker rule(s) and the page will load as expected.