Amy Matthews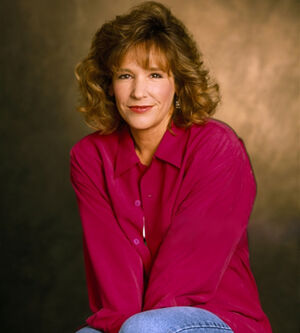 Amy Matthews is the mother of Eric, Cory, Morgan, and Joshua and a main character in all seven seasons of Boy Meets World.
She married Alan at the age of 19, and is still happily married. She is probably the calmest family member and always offers advice to her husband and children. Amy often has to have talks with Alan, due to the fact that he is very impulsive, and often says things he does not mean. She is generally a very understanding and nice person who only wants the best for her children. Throughout the series, it has become noticeable that she has a closer relationship with Cory and is firmer with Eric, while Alan is closer to Eric and is tougher on Cory.
Mother: Nana Boo Boo
Husband: Alan Matthews
Children: Eric Matthews (son), Cory Matthews (son), Morgan Matthews (daughter), and Joshua Matthews (son)
Grandchildren: Riley Matthews (granddaughter) and Auggie Matthews (grandson)
In-laws: Topanga Lawrence (daughter-in-law)
Series Info
Edit
Alternate Personalities
Edit
According to Alan, her favorite food is spaghetti and her favorite color is red.
References
Edit
↑ A Long Walk to Pittsburgh Part II
Ad blocker interference detected!
Wikia is a free-to-use site that makes money from advertising. We have a modified experience for viewers using ad blockers

Wikia is not accessible if you've made further modifications. Remove the custom ad blocker rule(s) and the page will load as expected.