Arnie Cohen is the sports anchor at WIXB. He also plays Jimmy Jellybean the clown. Cory expressed discontent at learning he learned about potty training from a sports anchor.
Eric filled in for Rich Herrerra to do the weather in Stormy Weather instead of Arnie because, as Pat Darby put it, the man was "half clown."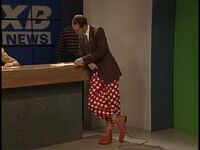 Ad blocker interference detected!
Wikia is a free-to-use site that makes money from advertising. We have a modified experience for viewers using ad blockers

Wikia is not accessible if you've made further modifications. Remove the custom ad blocker rule(s) and the page will load as expected.