Brave New World: Part 1
Comments

2
673pages on
this wiki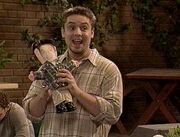 Brave New World: Part 1 is the first half of the two-part series finale.
Synopsis
Cory tries to live in false hope that Topanga will stay and nothing is going to change, but advice from Mr. Feeny makes him realize that she's only shielding herself from failure. Cory talks to Topanga, who is still hesitant, but agrees that they should move. Also, Eric makes an Eric Doll to remind Mr. Feeny of Eric and his Feeny Call after he's gone. They prepare to leave, but Shawn cannot stand it. He and Cory are giddy when Topanga reveals that Shawn's going to go with them. Also, Eric will go with them as well. Jack decides to join Rachel in the Peace Corps. Unbeknownst to Shawn & Jack, Chet's spirit proudly watches over his boys. Cory also imparts the biggest lesson he's learnt in life to Joshua.
After saying good bye to Amy, Alan, Morgan and Joshua, they go back to their old elementary school to see Mr. Feeny, where they tease him about the fact that they're the only students he has talked to for the last few years. He gives them his final advice ("Believe in yourselves. Dream. Try. Do good.") and exchanges tearful goodbyes. Everyone exits, and to the empty classroom, Feeny says, "I love you all. Class dismissed."
Notes
This episode is the only clip show of Boy Meets World's run.
Cory tells Feeny he thinks Feeny knows Cory well enough to call him "Cory," making it sound as though Feeny has never done so. But in The Psychotic Episode, Feeny does. Feeny remarks that he knows Cory well enough to call him "Cornelius."
The geranium Mr. Feeny uses for his metaphor about Topanga needing room to grow is the same plant that Cory gave him while he was in the hospital in the final episode of season one, I Dream of Feeny.
This episode is the series finale
External Links