Chantal DuBois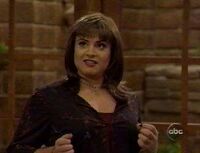 Information
Name
Chantal DuBois
Personality of
Eric
Description
Eric in drag
"
I'll never have a husband because I'm a shy, ugly little French girl!
"

—Chantel DuBois
Chantal DuBois is the personality that Eric inhibits when in drag. Chantal is a shy French girl who thinks that she is little and ugly. She is very sensitive, and becomes insecure when Crazy Luther chooses to date Lala (Jack in drag) instead of her. Chantal gives Topanga advice about what to do (because Cory is decorating their apartment horribly) and Topanga says she has a beautiful spirit.
Feeny said Chantal looked like a bison.
Before being Chantal, Eric in drag was Olga Svetlana, an eastern European shot-put champion who didn't shave her armpits.
Ad blocker interference detected!
Wikia is a free-to-use site that makes money from advertising. We have a modified experience for viewers using ad blockers

Wikia is not accessible if you've made further modifications. Remove the custom ad blocker rule(s) and the page will load as expected.