Christmas Future Jack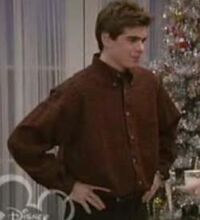 Information
Name
Jack
Personality of
Jack
Description
A future version of Jack that marries Topanga
Christmas Future Jack admits to not knowing Topanga too well, but thanks her for marrying him anyway. Together, they have three kids. They compromised on their Christmas set up, as Topanga allowed an aluminum Christmas tree and Jack let the kids open the presents on Christmas Eve. They love it.
Ad blocker interference detected!
Wikia is a free-to-use site that makes money from advertising. We have a modified experience for viewers using ad blockers

Wikia is not accessible if you've made further modifications. Remove the custom ad blocker rule(s) and the page will load as expected.