Cora
Information
Name
Cora
Personality of
Cory
Description
Cory disguised as a girl.
"
Tipping is not a city in China.
"

—Cora
Cora is the personality that Cory assumes when he dresses up as a woman. He initially intended to don drag so he could to research for his school article called "Chick Like Me" (based on John Howard Griffin's "Black Like Me"), but he was too ugly so Shawn was forced to do it, becoming Veronica Wasboiski.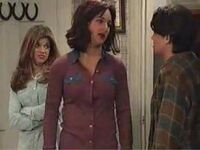 Cory did go to Chubbie's dressed as Cora to watch over Shawn on his date with Gary. He dressed up as a waitress who spoke with a rough voice and was overly personal.