Frank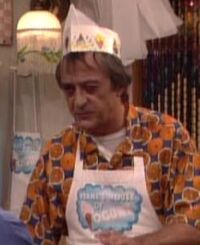 Frank owned "Frank's House of Yogurt (and some occult)", which was the yogurt parlor that Cory went to to speak to Madame Ouspenskaya. The parlor offered 3 flavors: Bucket of Blood (which was like strawberry), Bucket of Guts (which was more or less chocolate), and Smashed & Severed Intestines (which he did not recommend).
Trivia
Madame Ouspenskaya is Frank's aunt on his mother's side.
Frank speaks with a Russian accent.