Future Angela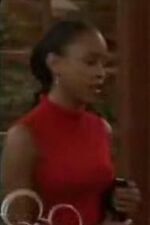 Information
Name
Angela Moore
Personality of
Angela
Description
Angela's life if her friends split up
"
I gotta go, though. I gotta catch a plane... or something...
"

—Future Angela, after running into Shawn
Even though she hasn't seen her for a while, Future Angela gets along very well with Topanga. The two express regret that they hadn't kept in touch.
Like Shawn, Angela writes freelance pieces for various magazines, most notable a piece about Costa Rican rain forests. She couldn't take being in the same room with Shawn, though, and made an excuse to leave Mr. Feeny's retirement party early.
Ad blocker interference detected!
Wikia is a free-to-use site that makes money from advertising. We have a modified experience for viewers using ad blockers

Wikia is not accessible if you've made further modifications. Remove the custom ad blocker rule(s) and the page will load as expected.