Ad blocker interference detected!
Wikia is a free-to-use site that makes money from advertising. We have a modified experience for viewers using ad blockers

Wikia is not accessible if you've made further modifications. Remove the custom ad blocker rule(s) and the page will load as expected.
Harley Keiner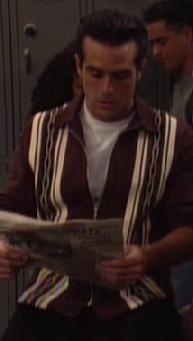 Information
Name
Harvey "Harley" Keiner
Role
Leader of the bullies
School caretaker
Final Status
Janitor at John Quincy Adams Middle School
Portrayed by
[[Danny McNulty
Kenny Johnston (S02E19)]]
Harvey "Harley" Keiner was the leader of the bullies at John Adams High. His oldest lackey is Frankie and his newest one is Joey. He tried to recruit Shawn, but was thwarted by Cory. In Back 2 School, Cory tried to make friends with him as a way to gain instant popularity but Harley instead chose to target Cory. He refers to Cory as "Johnny Baboon". He is currently a janitor at John Quincy Adams Middle School in New York.
Family
The episode Sister Theresa reveals Harley's family life and a more sympathetic side to the bully. He has a sister, Theresa Keiner, whom he truly cares for. Apparently when Theresa was eight, their father ditched Theresa at a Phillies game to run off with another woman. Harley went out of his way to get to the Phillies game and escort her home.
Trivia
His username is Harl_Kein.
Owned a Chevy Impala.
He portrayed by Kenny Johnston in the episode Wrong Side of the Tracks.
Season 3 was at least his third year spent as a Senior at John Adams High School.
Danny McNulty, who played Harley Keiner, was replaced by Kenny Johnston in the episode Wrong Side of the Tracks, with no explanation given. However, after the episode Girl Meets Flaws (from the first season of Girl Meets World) aired, McNulty revealed that he was bipolar and had a breakdown during the middle of an episode, and therefore his character was replaced by Johnston for one episode before the show explained that Keiner had gone to reformatory school. After McNulty was better, he came back for one last appearance in BMW as Harley, with his character having escaped from reform school.
He became the janitor at John Quincy Adams Middle School in New York City with Cory's help.
He is now a much nicer, kindhearted person who helps the children at the school. He is often shown to feel regret and remorse for his old ways.
His nickname for Cory and Topanga's daughter Riley is "Little Zippy".
He is also a mentor figure to Riley's boyfriend Lucas