Heartbreak Cory
Comment

1
685pages on
this wiki
Synopsis
Cory and Shawn are very excited for their school ski trip to the mountains so they can have a romantic weekend with their girlfriends. Their plans are ruined, however, when Cory sprains his ankle stepping off the bus. He cannot ski, but tells Topanga to go out and have fun. Alone in the lodge because everyone else is skiing, Cory bonds with the employee there, Lauren. They hang out all day, working on a puzzle to which Lauren gives Cory a piece (which she calls his "own piece of the mountain"). Confronted on it by Shawn, Cory says it meant nothing. Even so, he pockets the puzzle piece.
Later that night, Cory, Shawn, Topanga, and Angela are playing a game about being couples. They invite Lauren to play, and she sits next to Cory. Between Topanga and Lauren, Cory is very uncomfortable, stuttering and sweating. After the game, Shawn, Angela, and Topanga go to bed, but Cory decides to stay up talking to Lauren. Together, they watch the moon rise and the stars over the mountains. Cory loses track of time, and Feeny informs Cory hours later that he's talked through the night.
Lauren points out that Cory's ankle is better, but when Topanga asks him if he can ski, he says he thinks he should stay off it. He takes the oppurtunity to tell Lauren that he loves Topanga and nothing could happen between them. Lauren walks away, and Shawn enters, calling Cory on his lies. Cory promises that nothing happened, and that there is nothing to tell Topanga.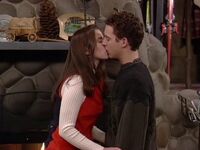 Later on, though, Cory and Lauren talk again. Lauren says she didn't finish before, and tells Cory that she thinks she could really like. Awkwardly, she kisses him and walks away. Cory is horrified, and Shawn tells him that he should lie to Topanga and tell her nothing. Feeling guilty, Cory confesses to Topanga that his ankle was fine and he could have gone skiing. He says he stayed up all night talking to Lauren and that he stayed in to tell her it meant nothing. Topanga is aghast, but is relieved when Cory lies and says nothing else happened.
Before leaving, Lauren hands Cory a note telling him of her feelings. Cory wishes her goodbye and exits. Outside, he and Topanga agree to sit together on the bus and talk the whole way. But as he walks away, the letter falls out of his bag and Topanga picks it up, looking after him, mouth gaping.
Notes