Herman Stecchino is Frankie Stecchino's younger brother, and the son of Vader.
He is equally as poetic as his older brother though, their father depends on him to follow in the family wrestling profession, since his brother chose poetry over wrestling.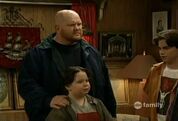 He develops a crush on
Morgan Matthews
and invites her to have pie with him for an after Thanksgiving dinner meal.
Ad blocker interference detected!
Wikia is a free-to-use site that makes money from advertising. We have a modified experience for viewers using ad blockers

Wikia is not accessible if you've made further modifications. Remove the custom ad blocker rule(s) and the page will load as expected.