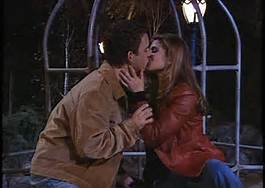 S01 Episode 4: Cory's Alternative Friends: Topanga Kisses Cory up against the lockers. Their first kiss with each other, and with anyone. Cory age 11.
S01 Episode 21: Boy Meets Girl: After watching a video on puberty, Shawn asks a girl, Hillary, on a date. Trying to stay in tune with his best friend, Cory asks Topanga on a date to The international house of salads. Not ready to date, he cancels feining sick. She comes over with tea to make him feel better, and the shoot sock baskets. Cory begins t show obvious interest in Topanga in this episode. Cory Age 12.
Ad blocker interference detected!
Wikia is a free-to-use site that makes money from advertising. We have a modified experience for viewers using ad blockers

Wikia is not accessible if you've made further modifications. Remove the custom ad blocker rule(s) and the page will load as expected.