Isaac "Goodshot" Kelly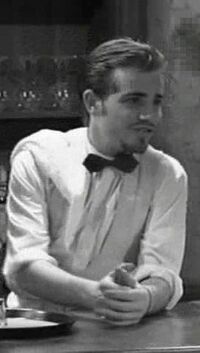 Information
Name
Isaac "Goodshot" Kelly
Personality of
Shawn
Description
The bartender at the Shangri-La Café.
Even though he stands behind the bar, Isaac "Goodshot" Kelly was just a patron who walked in and decided to stay. His inexperience shows, as he pours half a bottle of liquor into a single shot glass, flooding it.
Ad blocker interference detected!
Wikia is a free-to-use site that makes money from advertising. We have a modified experience for viewers using ad blockers

Wikia is not accessible if you've made further modifications. Remove the custom ad blocker rule(s) and the page will load as expected.