Jack Hunter
"Eric, your middle name is Randall"
- Jack Hunter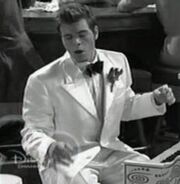 Relationships
Jack is a half-brother to Shawn Hunter
Series Info
Alternate Personalities
Trivia
Jack can speak Chinese.
Is somewhat smart, but for some reason Eric gets the better of him and occasionally he gets involved in Eric's antics.
He holds a degree in engineering from Pennbrook University.
Formerly known as "Jumbo Jack", until he started working out to bring his body fat count down to 6%.
Jack is a Mac user (Season 7 Episode 16, Seven the Hard Way).
Jack loves ice skating, which is one of the few things that he and Shawn have in common.
In The Witches of Pennbrook Jack reveals he is from New York City, the same place Cory and Topanga live in Girl Meets World. 
He will be appearing in the second season of Girl Meets World. 
He is the straight man next to Eric's antics. 
Gallery