Jake "the Snake" Roberts is a semi-retired American professional wrestler.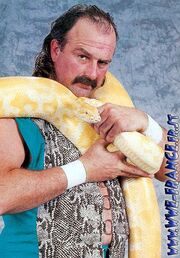 He appeared in the episode "
Sixteen Candles and 400-Pound Men
" alongside fellow professional wrestler,
Vader
. Vader has to wrestle Jake "the Snake" to be eligible to wrestle in a title match at Madison Square Garden. This was an important match that Vader asked his son (
Frankie
) to attend along with Cory and Shawn (as advisors).
He loses to Vader during the match.