Jedidiah Lawrence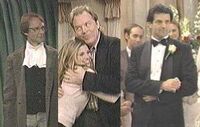 Jedidiah "Jed" Lawrence is Topanga's father and Rhiannon's (ex-)husband. He seems fond of Cory, although he was always intimidated by Shawn's womanizing reputation. Jedidiah is a luthier, meaning he makes guitars for a living. He also called Topanga "Tippy" when she was younger.
Series In
Trivia
Jedidiah's favorite TV show is Alf, and he hates Ally McBeal.
Notes
Jedidiah Lawrence is the only character to be portrayed by three different actors.
As Rhiannon's mother was born in the early 1940's, based on what Topanga said in No Guts, No Cory, Jedidiah's parents were the ones who were engaged on December 7, 1941.