Jennifer Bassett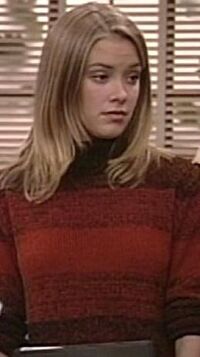 Episodes
An Affair to Forget, First Girlfriends Club (BMW)
Girl Meets Farkle (GMW)
"
She's pretty, she's tall, she drives a new red convertible... Oh, heck, I'd go out with her!
"
Jennifer Bassett is a beautiful, but nasty girl who dated Shawn for a while before dumping him. When she heard Cory insulting her, she sought revenge, and got back together with Shawn on the condition that he 'break up' with Cory. Shawn ultimately decided Cory is more important.
Later, she and two of Shawn's other ex-girlfriends kidnapped him to 'hold him on trial' for dumping them after swearing devotion. She likely did this as revenge for the previous engagement. She Is supposed by Cory  to "really be a guy". To which she responds, "so?"
She returned on Girl Meets World in the episode "Girl Meets Farkle", as the wife of Stuart Minkus and mother of Farkle Minkus.