Judy Habberfeld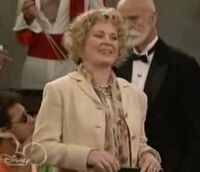 Judy Habberfeld was Cory and Topanga's fast-talking, slightly pretencious wedding planner. She also spoke with a British accent. Whenever anyone did or said anything silly (such as Alan's Johnny Carson impression), she paused briefly, then continued talking as though it never happened.
Judy also was romantically involved with Mr. Feeny, although he desperately wanted to avoid her so much that he lied about doing government work in North Korea. She says that all of her romantic interests do that, so she apparently annoys everyone.
Trivia
Judy Habberfeld prefers to be called by her entire name.
Judy Habberfeld speaks with a slight British accent.