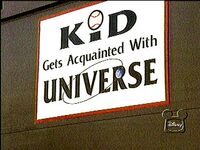 "
I love that kid. He is such a doof!
"
Kid Gets Acquainted with Universe is the counterpart of Boy Meets World that exists within its fictional universe. Eric once auditioned for the part of the "long-lost brother" (counterpart of Jack), but was only good at Shakespearean acting and unused to the sitcom format the show required. He greatly misunderstood the director's advice, and was fired.[2]
References
Edit
Ad blocker interference detected!
Wikia is a free-to-use site that makes money from advertising. We have a modified experience for viewers using ad blockers

Wikia is not accessible if you've made further modifications. Remove the custom ad blocker rule(s) and the page will load as expected.