Kristen Hoffman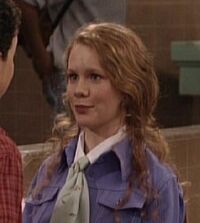 Kristen Hoffman was a student at John Adams High who Cory dated while he and Topanga were separated during season 3. First seen, they were dancing together at Chubbie's, but when they moved to the booth, Kristen told Cory she knew he was going to kiss her because he was playing with a french fry in his fingers. The date ended very poorly, for shortly after they kissed, Cory called Kristen "Topanga."
Kristen forgave him the next day, but by that point Cory didn't care. He had then become determined to win Topanga back. When Mr. Turner announced that Kristen had won a trip to Disney World, Cory was relieved because he could pursue Topanga without distraction. About a minute later, Turner announced that Topanga had won the trip as well.
When Cory followed Topanga to Disney World, Kristen did indeed complicate things, as she tought Cory had journeyed to see her. Topanga thought this as well, and it made Cory's goal much harder to reach. Ultimately, though, Cory won Topanga over the Kristen was finally (and officially) his ex-girlfriend.
She only appeared in 1 rpisode.