Lala Nelson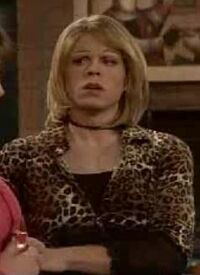 Information
Name
Lala Nelson
Personality of
Jack
Description
Jack in drag
"
Pucker your lips and close your eyes, and you will get a big surprise!
"

—Lala Nelson, preparing to unveil herself as Jack
Lala Nelson is the name that Jack reluctantly uses when in drag. Notably, Jack is far more insecure about disguising himself as a woman than Eric or Shawn. Even though Jack dresses up as Lala to avoid Crazy Luther, Luther is strangely attracted to Lala, and he courts her.
They go out on a date, with Jack acting the whole time, but Luther becomes enraged when Lala refuses to do anything sexual. To avoid getting caught, Jack seductively tells Luther to close his eyes. He takes the oppurtunity to take compromising photos of Luther, then blackmails him with them so he won't kill him and Eric.
According to Eric, Lala's fictional background has her as a "trollop" and a "former drug addict."
Ad blocker interference detected!
Wikia is a free-to-use site that makes money from advertising. We have a modified experience for viewers using ad blockers

Wikia is not accessible if you've made further modifications. Remove the custom ad blocker rule(s) and the page will load as expected.