Ad blocker interference detected!
Wikia is a free-to-use site that makes money from advertising. We have a modified experience for viewers using ad blockers

Wikia is not accessible if you've made further modifications. Remove the custom ad blocker rule(s) and the page will load as expected.
Dean Lila Bolander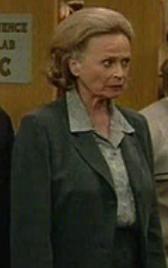 "
I'm Dean Bolander. I've had a rotten morning, and I don't check my mood at the door.
"

—Dean Bolander
Lila Bolander is the dean of Pennbrook University, and also teaches several classes there. She develops a friendship with Cory and the rest, although it never comes close to their friendships with Mr. Feeny. She serves as a romantic interest for Mr. Feeny, as well.
Series Info
Trivia
Notes