Manager of the Philadelphia Victorian Hotel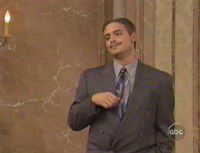 Information
Name
Unknown
Personality of
Eric
Description
The manager of a fancy hotel
"
What kind of unbelievable hotel moron would fall for something that stupid?
"
The Manager of the Philadelphia Victorian Hotel looks exactly like Eric, and thinks like him too. Eric convinced him that he is E.J. Peterman, the rich owner of a disposible diaper empire, and moves the planned Peterman wedding up so Cory and Topanga can get married instead. He speaks with an Eastern European accent.
When the real Mr. Peterman shows up, he and the manager get into an enormous fight. Even though Mr. Peterman is furious, the manager holds his own. He yells very loudly in a very high pitched voice.
Ad blocker interference detected!
Wikia is a free-to-use site that makes money from advertising. We have a modified experience for viewers using ad blockers

Wikia is not accessible if you've made further modifications. Remove the custom ad blocker rule(s) and the page will load as expected.