Eli Williams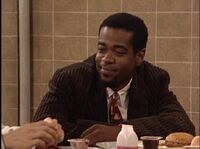 Information
Name
Eli Williams
Role
Friend to Turner, teacher of Cory, Shawn, and Topanga
Final Status
Storyline Ended (BMW)
Becomes Principal of Abigail Adams High (GMW)
Portrayed by
Alex Désert
A good friend of Jonathan Turner, Eli Williams quit the local news station and taught media relations classes at John Adams High. His mark is of truth, his ability to dig out what is actually going on in the media.
History
Has been a friend of Turner's for quite sometime.

Although, is noted for occasionally choosing women over his buddy. (Especially in "Train of Fools")

Aggravated Feeny on the day of his interview, but was hired anyway.
Offered advice to Cory on a few occasions.
Continued working at John Adams High. The reason why he was never seen or mentioned again is because he is teaching a grade that Cory,Shawn, and Topanga passed.
Audience members who attended tapings for the upcoming third season of Girl Meets World have leaked that Alex Désert will return as Eli Williams, who is the principal of Riley Matthews' high school.
Alternate Personalities