Prudence Curtis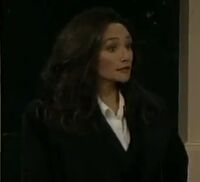 Prudence "Pru" Curtis
is
Topanga Lawrence
's maternal aunt and her legal guardian. She is the sister of Rhiannon Lawrence, the daughter of Rosie McGee-Curtis, and the great aunt of Riley and Auggie Matthews. She believes her sister
Rhiannon Lawrence
and brother-in-law
Jedidiah Lawrence
were irresponsible in making Topanga move to
Pittsburgh
with them before her senior year at John Adams High School begins, and has called
Mr. Feeny
"as verbose" as he is "snappy."
In A Long Walk to Pittsburgh: Part 2, she agrees to let Topanga stay with her in Philadelphia to finish high school despite disagreeing with her relationship to Cory.
In Learning to Fly, she does not let Topanga go on the overnight road trip with Cory, Eric, and Shawn to visit colleges, as she feels it is improper for people their age.
Trivia
Topanga says that Prudence had never been in love and wouldn't even know the story of Romeo and Juliet. This is an in-joke, as the actress, Olivia Hussey, portrayed Juliet in the 1968 movie "Romeo and Juliet".
Ad blocker interference detected!
Wikia is a free-to-use site that makes money from advertising. We have a modified experience for viewers using ad blockers

Wikia is not accessible if you've made further modifications. Remove the custom ad blocker rule(s) and the page will load as expected.