Richard Karn Wilson (better known as Richard Karn; born February 17, 1956) is an American actor. He is best known for playing Albert E. "Al" Borland on Home Improvement. He guest starred on Boy Meets World in 1995.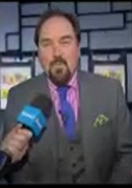 Hosted Family Feud from 2002-2006
Was born in Seattle, Washington
Has a son named Cooper Andrew Wilson
Karn has been married to Tudi Roche since 1985.
Ad blocker interference detected!
Wikia is a free-to-use site that makes money from advertising. We have a modified experience for viewers using ad blockers

Wikia is not accessible if you've made further modifications. Remove the custom ad blocker rule(s) and the page will load as expected.