Ricky Ferris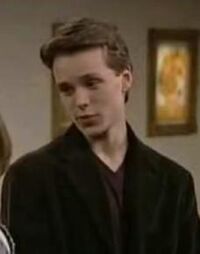 Background
Edit
Ricky played little league baseball until Topanga hit him in the butt with a fastball.
Ricky asked his parents if he could go to Paris to study art.

They said yes, but Ricky became nervous about actually going.

His favorite painting is "Starry Night," his second favorite is "Irises"
Series Info
Edit
Ricky Ferris meets Topanga at the art museum. He was giving her the eyes and Angela noticed. They began to talk about art (first "Irises," then "Starry Night") and they inadvertantly talk all day. At the end, Ricky says he'd like to talk more and asks Topanga out. When Topanga seems hesistant, he says that they'll meet at a restaurant and "If you want it to be a date, you look up from your dinner. If you don't want it to be a date, don't look up. But if you do look up, I'll be looking back at you."
At their date, they're both looking up. Ricky tells Topanga of his parents and going to France. She asks him what he's been drawing and he passes over a drawing of some flowers. He then kisses her.
Later on, Topanga explains to Angela how the kiss meant nothing and simply reaffirmed her love for Cory. She had called Ricky earlier in the day to tell him that she could never see him again.
Ricky only appearance is in "Starry Night", although he is in flashbacks during "Honesty Night"