Rosie and Gina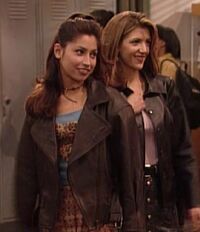 Information
Name
Rosie and Gina
Role
Shawn's "type of girl"
Portrayed by
not listed
After being rejected by Dana Pruitt, Shawn stops Rosie and Gina in the hallway to walk with them. He says that they are more his "type of girl," meaning fast and flashy girls.
Notes
It looks like the girl on the right is played by Cindy A. Lora, who played Anita in I Never Sang for my Legal Guardian, although it is not confirmed.
Ad blocker interference detected!
Wikia is a free-to-use site that makes money from advertising. We have a modified experience for viewers using ad blockers

Wikia is not accessible if you've made further modifications. Remove the custom ad blocker rule(s) and the page will load as expected.