Ryan
Ryan is Kelly's young son. Kelly describes to her date, Eric Matthews, that Ryan gets shy around new people. He and Eric get along well during the time that Eric is dating his mother.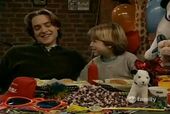 Eric babysits for Ryan a few times as well, but when Eric wants to play pool with
Cory
and his friends, Ryan runs off and gives Eric a scare. Although Kelly isn't upset, she realizes it isn't fair of her to let Eric stay, and she tells Eric that they probably shouldn't be together.