Tom Bosley as himself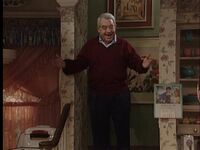 Tom Bosley is an actor best remembered for portraying Howard Cunningham on Happy Days, although he's also appeared on the notable TV shows McMillan & Wife, The Love Boat, and Port Charles.
On Boy Meets WorldEdit
He is Morgan's father, and he gives her and Cory a 10¢ allowance.

Cory says he isn't his father, so Tom takes his money back.

When Morgan shows him the headline about Cory being a spy, he calls J. Edgar Hoover (with whom he seems to have a friendly relationship) and has Cory arrested.
Although he is credited as himself, Tom Bosley certainly doesn't play himself on the show.
It is hard to tell whether or not he's supposed to be Cory's father in the 50's. He acknowledges that Cory's his son, then dismisses the thought just as quickly.
External Links
Edit
Ad blocker interference detected!
Wikia is a free-to-use site that makes money from advertising. We have a modified experience for viewers using ad blockers

Wikia is not accessible if you've made further modifications. Remove the custom ad blocker rule(s) and the page will load as expected.