Versailles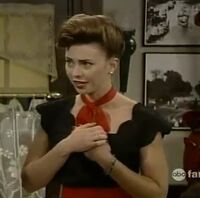 Information
Name
Versailles
Role
Cory's French Girlfriend
Portrayed by
Yvonne Sciò
Versailles
was
Cory Matthews
's French girlfriend in the episode
No Guts, No Cory
. She was a waitress in a local bakery. After serving in World War II, Cory was injured in a blast when running into enemy territory, and he lost all memories of his life, family, and girlfriend
Topanga
. He resumed his life in Paris under the name "Pierre" with no recollection of his past life, and fell in love with Versailles.
However, when Cory's brother, Eric, went to search in Paris for Cory, Versailles served him, and Eric showed her an older picture of Cory. She stated that the person in the person looked familiar, but as the picture was from Halloween from when Cory was dressed up, she was not able to fully recognize him.
When Eric was trying to take Cory home, Cory asked Versailles to stop him, but she told him that he must go if that would be the way for him to find peace. He, however, said he would find peace when his dreams stopped haunting him, prompting him to propose to Versailles. However, before their wedding, Cory was showing uncertainty about marrying her, but reassured Versailles that their marriage was what he wanted. Topanga rushed into the bakery at that moment, and Versailles recognized her as the girl from Cory's painting, which was of a girl that was haunting Cory's dreams every night. Topanga kissed Cory to help him regain his memory, and when he finally did, Versailles handed her wedding bouquet to Topanga, willingly giving up Cory to his true love.