Wee Hawkin Willie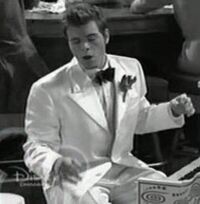 Information
Name
Wee Hawkin Willie
Personality of
Jack
Description
An average piano player at the Shangri-La Café.
Wee Hawkin Willie is the pianist at Rory's Shangri-La Café. Everyone seems to agree that he doesn't play the piano that well, and he constantly thinks he's come up with a new hit (such as "Forget Your Troubles, Come On Get Happy" what Isaac "Goodshot" Kelly told Trixie and "Hit Me Baby, One More Time" when Rory asks for more coffee), but doubts himself and says, "Nah."
However, when the Gumshoe wonders if "this dame (Trixie) (is) about to run amok", he launches into a song:
"This dame's about to run amok
Look's like we've all run outta luck
And nothing's ever gonna be the same again!"
Wee Hawkin Willie is the direct descendant of Harry Beethoven.
Ad blocker interference detected!
Wikia is a free-to-use site that makes money from advertising. We have a modified experience for viewers using ad blockers

Wikia is not accessible if you've made further modifications. Remove the custom ad blocker rule(s) and the page will load as expected.