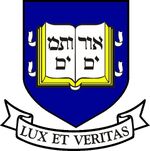 Yale University is a private, Ivy League university in New Haven, Connecticut. Notable alumni include Bill Clinton, George H.W. Bush, and Dick Cheney.
Relevance to Boy Meets WorldEdit
50's Eric says he's choosing between going to Harvard and Yale in I Was a Teenage Spy.
In Things Change, Topanga is wait-listed by Yale after applying during her separation with Cory, which ended in Starry Night.

Much to Cory's dismay, she is later accepted.

In Graduation, Cory and Topanga wrestle with the idea of Topanga going to Yale. Cory tries to be very supportive, but really doesn't want Topanga to go.
In His Answer, Rachel mentions that she turned down a scholarship to Yale to go to Pennbrook with her boyfriend, who left her to go to Corpus Christi.
Amy openly disproves of Topanga's decision, and says as much in Her Answer.
In The Truth About Honesty and The Provider, the subject of Topanga giving up Yale occurs in a fight between Cory and Topanga.
Ad blocker interference detected!
Wikia is a free-to-use site that makes money from advertising. We have a modified experience for viewers using ad blockers

Wikia is not accessible if you've made further modifications. Remove the custom ad blocker rule(s) and the page will load as expected.